A collection of 13 lace edgings. With these lace edgings you can design your own knitting projects, whether you want to knit a scarf or a top down sweater with raglan sleeves.

For all lace edgings you will find 3 charts:
For rows with a straight edging for scarves, stoles and cardigans
For rows with a slanted edging for shawls in crescent or triangle shape
For knitting in the round on sweaters, sleeves, cuffs, cowls and moebius wraps
The patterns are charted
Also included are designer's hints.

Lace Edgings with Beads: » LaceWorks 2
Lace Edgings transversal: » LaceWorks 3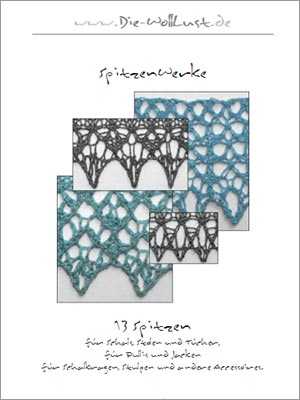 For the collection in digital form (PDF file), there are no additional costs for shipping and handling.
For printing and binding the collection (spiral binding, DIN A4), we charge 3 Euro on top, plus shipping costs.