A collection of 12 lace edgings that are started at the narrow edge. With these lace edgings you can complete your knitting or enhance old garments. They can all be knit in any length.

For all lace edgings you will find 3 charts:
Right Lace Edge
Matching central design
Left Lace Edge
The patterns are charted
With these charts, you can knit scarves or stoles in any size. This collection virtually includes 12 patterns for different scarves / stoles. Also included are designer's hints.

Lace Edgings without Beads: » LaceWorks 1
Lace Edgings with Beads: » LaceWorks 2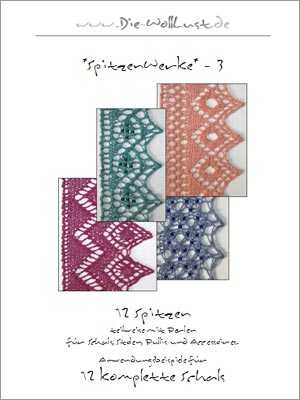 For the collection in digital form (PDF file), there are no additional costs for shipping and handling.
For printing and binding the collection (spiral binding, DIN A4), we charge 3 Euro on top, plus shipping costs.