A neckwarmer / cowl with the certain "twist" - that's the moebius! Made of laceweight or fingering weight yarns, solid-coloured or variegated, with a lace knitting pattern all over or rather plain with a beautiful edging (knitted or crocheted), each moebius is an eyecatcher, due to its special construction! The collection contains 6 moebius designs for different yarn weights, with beautiful knitted edging or a crochet edging. Additionally, a workshop for the special moebius cast-on is included. All knitting patterns are charted, one pattern contains a crochet chart as well.
The collection consists of the following patterns:
- Moebius *WaveOfColor*
- Moebius *VivaSummer*
- Moebius *VivaLou*
- Moebius *Opus1*
- Moebius *VivaMary*
- Moebius *Griddy*
This pattern is available in several languages. Please select the language above.
All patterns are also available individually: » Cowls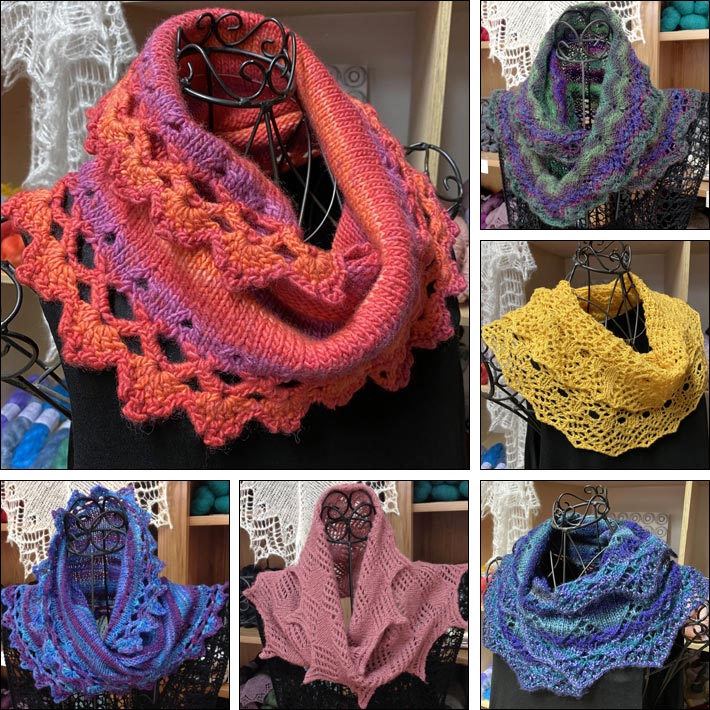 The collection in digital form (PDF file) is sent via e-mail without shipping costs.
The collection in paper form, bound as a spiral book, costs 2 € more, plus shipping costs.